So have you decided on your latest smart phone yet? is it gonna be iOS or Android? (and yes, by the mention of Android, the fist thing that pops up in everyone's mind [ok, maybe not everyone to be fair but at least 79% of the population] is a Samsung phone!)
Aha!
Well...Just to spice things up a bit, here is some info on the latest upcoming of the Samsung series- The Samsung Galaxy S5! (Not 5S :/)
It looks really fantastic and boast a vivid burst of colors! - imagine rainbows popping up from the screen huh?
What do you guys think? Check out this beautiful infographic for easy digestion
Is it a "Nay" or "Yay"?
-----
Samsung outs four infographics on the latest products
Samsung has uploaded four different infographics illustrating all major specs and features of the Galaxy S5, Gear, Galaxy Gear and the evolution of Galaxy S throughout the years.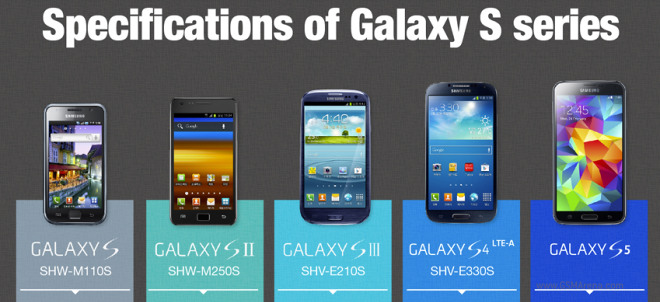 The latter inforgraphic has been taken down for an update, since its previous version spilled the beans on the Exynos octa-core version of the Galaxy S5 flagship.
Here is the inforgraphic about the Galaxy S5.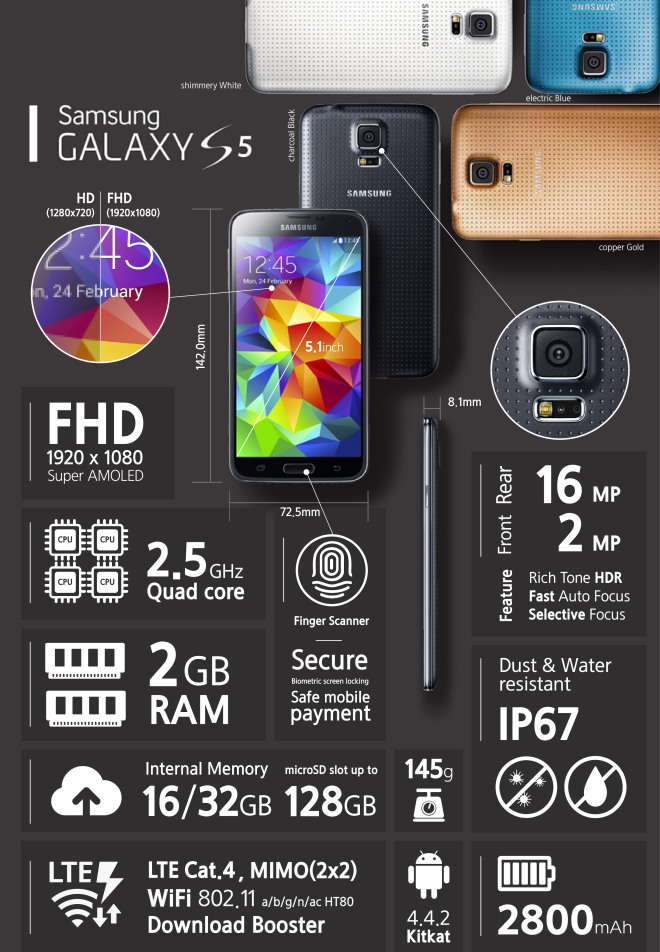 Wow..looks really cool! But in my personal opinion:
2 gigabytes (gb) of ram only? common...I think they could have done better then that

Kit Kat seems like a really good OS. Uncluttered and easy to you..should be a breeze

Aha! The WiFi download booster is all we need to stream those Korean dramas (especially I know of some who would stream "running man" all day long) and K-pop MTV's (so addictive)

Water resistance is really important! I cant tell you of the times that I have personally seen friends drop their phones in the bathroom and ect (not a story I would want to tell before or during lunch)

Battery life is all about the same, not much difference from the S5

The 16 MP (megapixel) cam is something i'm excited about! This gives me the satisfaction of all my instagram, camera 360, wonder photo & (insert favorite camera app name here) needs!

Finger print scanner? It's an attempt not to loose out to the iPhone 5. But in a nutshell, its really becoming a necessity as security becomes a priority concern of most users
This one tells you all about the Gear smartwatches.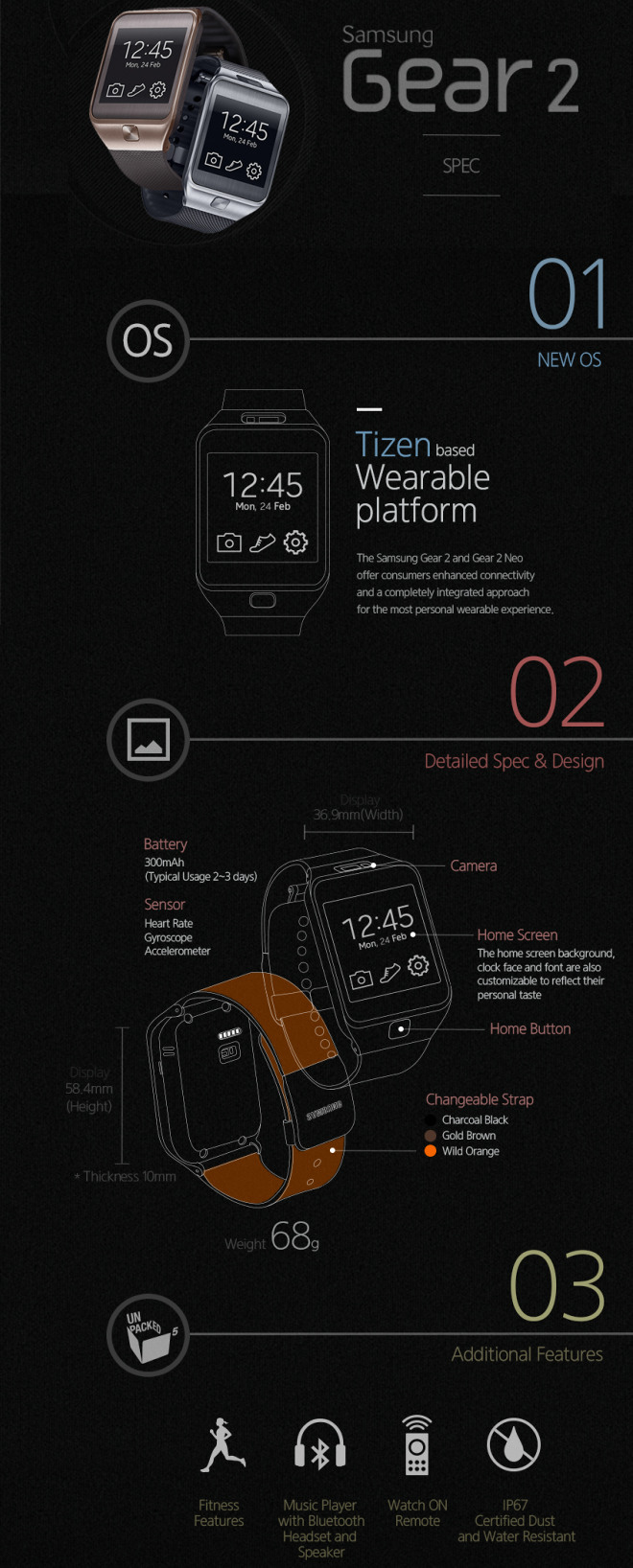 What about additional gadgets like the cool Samsung Gear 2 watch?
I believe that we have now arrived to the next level era where by watches dont just tell us the time anymore, but more than that!
This is really good especially for the health concerned folks. Now we you can track all of your movements, your exact coordinates, up to date heart rates, how fast you are traveling and ect
Dont have to go implant those trackers anymore, your watch can do it for you ;)
Next picture shows you all there is to know about Galaxy Fit.

And finally, this one shows the history of Galaxy S so far (the South Korean versions at least).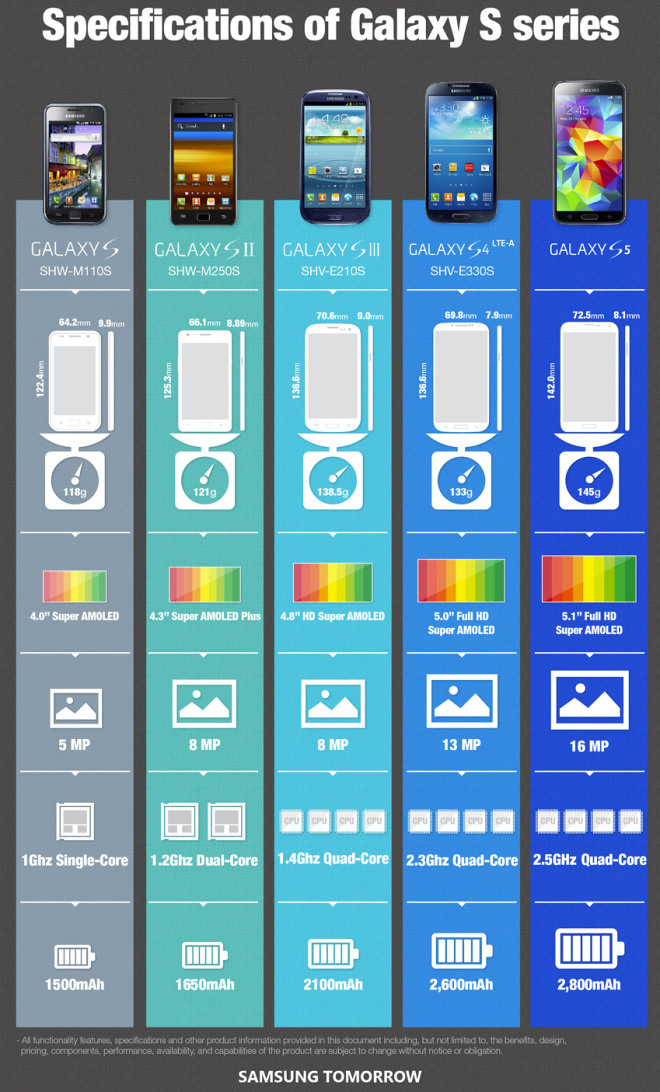 Well, samsung tomorrow indeed
but will iPhone's be the future? It's a good fight indeed~!
source