Here's another interesting article related to Towkay Cheong Chee and his past activities
It's an interesting article that tells the tale of someone throwing a hand grenade at a meeting and even at a funeral! And I thought those were only seen at movies...
Gosh, to live in a time like this, you really need to be brave!

-----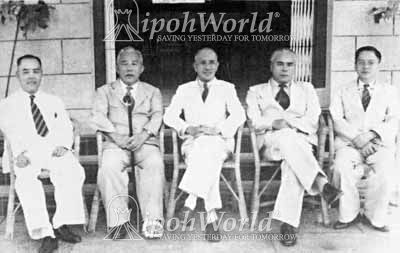 Subject : Injured Malayan Chinese Association Leaders At Cheong Chee's Residence, Ipoh
Published By :
Published by Perak Academy. Author: Khoo Salma Nasution & Abdur-Razzaq Lubis
Source :
Kinta Valley Book / ipohWorld Library
This photograph from the National Archives Malaysia was taken at Cheong Chee's residence in Ipoh, three months after a Communist Terrorist (CT) grenade attack on an MCA meeting in which they were all injured.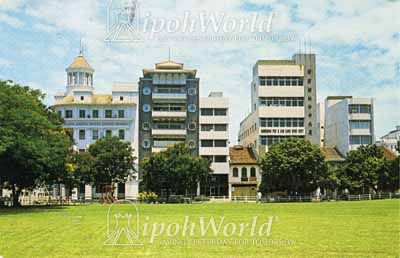 The grenade was thrown into a meeting of the Perak MCA at the Perak Chinese Chamber of Commerce at 35-37 Hale Street, chaired by Towkay Lau Pak Khuan on 10 April 1949. The attack was focused at eliminating the conservative Chinese leadership, which failed, although some of the prominent Chinese leaders were injured including Tun Tan Cheng Lock (President of National MCA) and Cheong Chee (Chairman of Perak Chinese Mining Association.
In December the same year, another Communist grenade exploded during the funeral of Cheong Chee's mother at 3rd mile Gopeng Road Chinese Cemetery, killing three mourners and injuring 23, including Towkay Lau Pak Khuan (aka Kuan) and Ipoh lawyer, Leong Yew Kwoh. The attacks however strengthened the party's resolve to raise support among Chinese for counter-insurgency efforts.

Tun Tan Cheng Lock is sitting at the centre in this picture.
source: http://db.ipohworld.org/view.php?type=id&id=702#search_form_wrapper
Here is another article from another source relating to this article:
GRENADE EXPLODED DURING PERAK FUNERAL SERVICE
SINGAPORE (A.A.P.-Reuter).-
Two men and a boy of 10, all Chinese, were killed and 20 others injured yesterday when a booby trap exploded at the grave side during a funeral service at Ipoh cemetery. Perak.

THE outrage occurred at the funeral of Madame Au See, mother of Mr. Cheong Chee, president of the Perak Chinese Mining Association and a leading member of the Perak Chinese community. Several Perak Chinese leaders were among the wounded. HOOK PROTRUDING
A primed hand grenade had been buried in the ground with a catch hook protruding two yards from the grave's edge at the spot where mourners norm ally take up their positions at a service. "We had just lowered my mother's remains into the grave and the coffin was being adjusted when the explosion rent the air," Mr. Cheong Chee said after wards. One of the mourners said the hushed cemetery was suddenly transformed into something like a battlefield.
"Wounded people were strewn everywhere. They were moaning. It was horrible," he said.
A Chinese miner, who was in the funeral party, said that when he saw the hook fixed in the ground, he sensed danger and ran away, shouting a warning. It was then that someone sprung the trap. The killed were aged 10, 25, and 55.

source: http://trove.nla.gov.au/ndp/del/article/52710980